I am honored to have the opportunity to contribute to a Meet-a-Mom feature on the Greater Lansing Area Moms site.  Greater Lansing Area Moms Site Curators, Julie and Christine, are part of The Local Moms Network, a network of sites across the country giving moms the gift of time.  Created for moms by moms, the Greater Lansing Area Moms provides a user-friendly connection to local communities and a collective resource for local needs.
The Local Moms Network collaborated with Hay There Social Media by aligning their organizational strengths to help women across the country discover a new work from home system that creates truly flexible work. A significant group of Local Moms Network Site Curators were gifted the experience to complete Hay There's live, 14 module training, with full access to Hay There's "INsider" membership benefits throughout their training period.  Feedback was overwhelmingly positive and I am thrilled to have gotten to know Christine and Julie of Greater Lansing Area Moms from the collaboration.
In this Meet-a-Mom feature article, I got to give a bit of "Michigan flare" to these questions since I am a resident of the Mitten state.  Take a look and if anything resonates, feel free to connect and let me know on social media!
Read the full article here.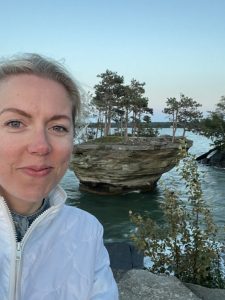 If you would like to the opportunity to work from home and around your kid's schedules through online content features, social media engagement all while surrounding yourself with a supportive community, be sure to check out what Hay There Social Media offers!