Entrepreneurship and Equity in the Home
Get ready for this episode of the Evolving Mama: Step into your divine power Podcast!  In episode 12, Kristen, host of The Evolving Mama Podcast, discussed with Emily A. Hay about Jumping Into Entrepreneurship, Finding Equity In The Home And Attaining Success In A Flexible Career While Avoiding Becoming The Default Parent with Emily A. Hay.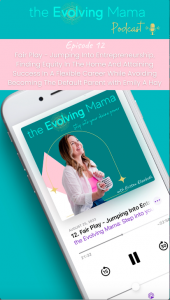 In this episode, get ready to be inspired to find equity in your home and go after your entrepreneurial dreams. Emily A. Hay is the Founder & CEO of Hay There Social Media, a community-led brand that upskills women across the U.S. with a proven training program to be freelance social media managers.
This work life integrator has been published in Fast Company, BlogHer, Business Insider and has appeared on NBC Detroit.  Emily and her husband are featured in the Fair Play Documentary produced by Reese Witherspoon's Hello Sunshine, written and directed by Jennifer Siebel Newsom, based on Eve Rodsky's NYTimes Bestselling book which can be seen on hulu, Amazon Prime Video, Apple TV+, YouTube.  They bravely shared their personal journey to find fairness and equity around the invisible labor in the home that historically falls on women.  The documentary has been viewed nationwide, including screenings by the U.N. and has been recognized at Sundance for Brand Storytelling.
In the full episode, we talk about:
-What is was like for Emily to make a pivot into entrepreneurship
-Why your dreams are important and you can't rely on your partner to validate your desires and to be totally on board to move forward
-Experiencing imposter syndrome as she began building her business
-All about her training company that empowers women to become independent social media managers and enjoy flexible work
-How to make it work as a mom and find success in work life integration to be successful
-Her experience being one of the families featured in the Fair Play documentary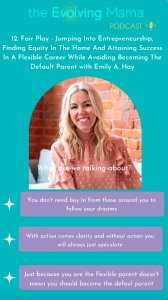 -The gender division of labor and becoming the default parent
-Some small steps to take to begin the process of moving through these challenges in your relationship
-How to upskill in today's world, the possibilities are endless
-The beauty of turning 40 and letting go of rules for yourself
Watch Shorts of this episode here on YouTube.
Looking for something of your own?
Perhaps you've considered starting something of your own or would like to advance your skills to work flexibly. I'm happy to share @haytheresocialmedia 's new launch of "Core Training Lite," the essentials of a proven social media upskilling program, in a box. It's flexible work. Delivered!
This "Lite" version is their newest offering that allows women to jump into new opportunities for the price of a Costco-run. Use this link to learn more and use promo code haythereevolvingmama to get 20% off and FREE shipping!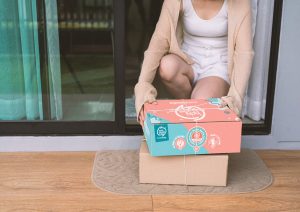 Connect with Emily A Hay :
IG: @EmilyAHay
Tiktok: EmilyAHay
LI: EmilyAHay
Company Website: Hay There Social Media If you enjoyed this episode and feel called, take a screenshot and share it on your IG, tagging Kristen @theevolvingmama_ and @EmilyAHay
***To show your support for the Evolving Mama podcast, please rate and review on Apple, Spotify or wherever you are listening from!
Connect with Kristen:Email: kristen@theevolvingmama.com
IG: @theevolvingmama_
Website: theevolvingmama.com
Looking for support, inspiration or accountability? Do you feel like you are ready to make a transformation in an area of your life? Are you searching for clarity or feeling a pull to go for a dream you have?
Work with Kristen 1-1. Simply fill out the intake form & schedule your free clarity call today!