Emily A. Hay was recently featured in the Mother Honestly newsletter discussing her role in the Fair Play documentary.
Audrey Goodson Kingo conducted the interview, which aims to shine a light on the division of unpaid labor in the home.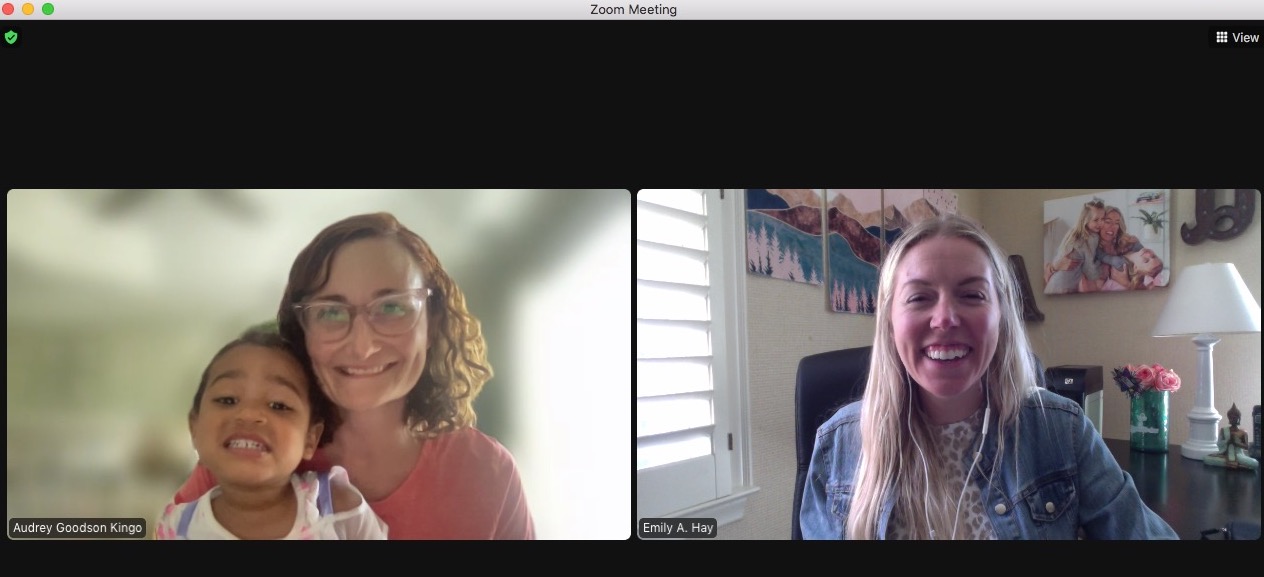 From the newsletter:
"There's a moment in the new Fair Play documentary, based on Eve Rodsky's groundbreaking book by the same name, when a husband is reciting all the things he appreciates about his wife. He begins crying. His wife, Emily, begins crying. Eve Rodsky, who is facilitating the couple's virtual coaching session, begins crying.
The scene is cathartic for the couple and viewers alike. It comes towards the end of the film's unflinching look at how moms in America have been abandoned—by husbands who don't do their fair share at home and by lawmakers who refuse to prescribe solutions to support working families. The common thread is that women's work is perpetually devalued. When Emily's husband, Niall—a VP who works 80 hours a week—seems to finally see the full extent of his wife's contributions, the relief is palpable.
It's a breakthrough that's deeply needed, both on film and IRL, as the kids say. Though the documentary never descends into bleakness or bitterness, it's easy to feel rage watching couple after couple struggle in a way that feels uniquely American—to pay their bills, pursue their dreams, raise children, care for sick family members and manage a home, with little outside  support. The bulk of these burdens, of course, inevitably fall to the women featured in the documentary, as well as women writ large. An array of experts, from Melinda French Gates to American labor activist Ai-jen Poo, explain how working women got saddled with the majority of domestic duties, as well as the toll it takes on our health, marriages and careers.
"Why does America shit on moms? Sexism is the obvious answer," says California Congresswoman Katie Porter, who, much like Rodsky, has a knack for nailing the point. "Every time we press on expanding support for things like child care, the very first thing we hear back is it's so expensive, it costs so much. But there are lots of things we do in government that cost a lot. There's a hidden message there, which is that it's just too expensive to support women. Wouldn't it be cheaper if we just let women keep doing it all—for free?"
The documentary makes a persuasive case that systemic solutions like federally subsidized child care are needed, while providing concrete ways couples can establish more equitable arrangements in their own homes. For fans of Rodsky's work, her journey to an equal partnership with her husband Seth will be familiar, but the film also follows several other families as they work towards establishing a better domestic balance. Emily A. Hay, who is featured with her husband Niall, is the founder of a social media marketing company. Her job, which she does from home, means she can more easily attend to the couple's two kids. Of course, that doesn't mean she necessarily should.
"Just because you can do it flexibly doesn't mean you should do it all," she said, when we chatted after the film's release. "It truly took the Fair Play system for me to see that."
The system, developed by Rodsky to help parents strike a fair balance for managing chores and childcare, isn't prominently featured in the documentary, but its central tenets are a running theme, and they make for a good conversation starter for any couple who might be struggling to divvy up household duties.
"I won't even say Niall wasn't willing to help. He truly didn't know what needed to be done," Emily says of her experience. "So at least now he can see that work. And when you see it, you value it."
Thank you for the excellent write-up, Andrea!