Author: Hailey Beitman
Source: Downtown Publications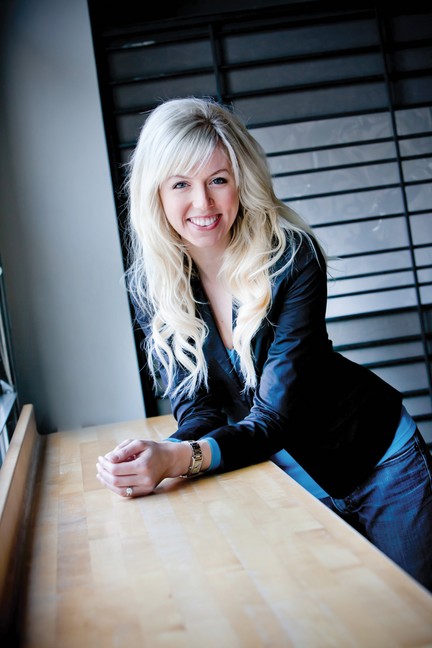 Emily A. Hay mastered the art of leadership and empowering others at a young age. Today, the social media consultant, public speaker and entrepreneur is the founder of Hay There Social Media, which helps small businesses grow using the Internet.
Hay grew up in the suburbs of Cleveland, where she participated in speech competitions and held leadership roles in student council and National Honors Society, and helped friends start small businesses.
"I remember when I was probably in middle school, there was a time where a bunch of friends of mine were too young to have full-time jobs. I remember collaborating with everyone," she explained. "And we put together a little business."
Following in her father's footsteps, Hay attended Ohio State University, studying business and marketing at the Fisher College of Business. "My marketing professor advised me that regardless of what you do in marketing, you can't go wrong by learning how to sell something. I definitely took his advice and my first job out of school was sales."
Hay worked in hospitality sales in Ohio before moving to Michigan in 2006 to work for IKON Office Solutions. "All I knew of Michigan was Birmingham, where we lived, and Southfield, which was my sales territory."
In 2008, Hay left the corporate sales environment and was hired by a small business, where she was one of two full-time employees selling sponsorship for major events in Detroit. "That was definitely enlightening to be able to see first hand how one can build their own business," Hay said.
Using her past experience, she launched Hay There Social Media in 2010, which began as a side project helping the owners of Great Harvest Bread Company expand their Facebook page. "They had all these options that didn't cost them anything and that's when I got really passionate for the small business owner," she said.
It wasn't long before Hay realized social media careers were an empowering and flexible way to work from home. "I thought that was the breakout moment. There's a plethora of very capable women who can take on this work with me." A few capable women quickly grew to an all-female staff, who specialize in marketing to the female population and communicate using tools like Skype and conference calls to fill the void of not being geographically close.
Her newest ventures are "Saving Face for Parents of Tweens" and TweetTeam, a street team with a modern spin. "Saving Face is the first go at a product. I just kept hearing 'I'm scared to death of what my 11-year-old is doing on my Instagram page'." Saving Face, a package of videos and handouts, also serves as a fundraiser for Cornerstone Schools.
On a monthly basis, Hay contributes to the Internet Advisor Show on WJR 760AM and has been featured in Crain's Detroit Business, After5 Detroit, CBS Radio Detroit, and MY TV20 Detroit.
When she isn't working from her laptop or smart phone, Hay utilizes the walkability of her Birmingham community and enjoys dining with her husband.
"My next step is to keep my eyes and ears open and figure out ways to build a more scaleable service," she said. "I see myself working flexibly, possible having a family, and helping an exponential number of businesses and team members."
Originally published in the Downtown Publications on 02/06/13.