"Hay There," Friends!  Today I am excited to share some international examples of small businesses successfully leveraging social media to grow their businesses.
I had the good fortune of taking a trip to the UK this July and had a lovely time in bonnie Scotland.  From the memorable sights and culture, great golf and delicious food, the trip was an unforgettable experience that was even enhanced by some highland rain.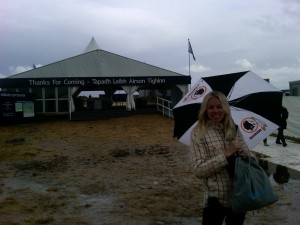 Even though I was technically "on holiday," I always have social media on the brain. 🙂  While I was away, I noted some examples of small businesses in Scotland effectively putting social media to work for their brands.  Social media is fundamentally shifting the way we find products and services and these are good examples how social media can enhance how your business communicates with customers.
I came across a belly-dancing studio in Edinburgh that is leveraging a Facebook presence as an effective way to increase referral business.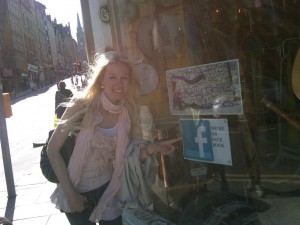 By proudly displaying the Facebook "f" in its store front, this business is in essence shouting, "We are friendly!  We want to get to you know as you get to know us!"  It implies the business is forward thinking and passionate about bringing the benefit of its art to others.  As people learn about the belly dancing classes for example, they can easily spread the word to their own social network about this interesting niche business.  The belly dancer has the ability to provide both prospective and current customers more value through her social profile than any newspaper ad could deliver.
Another strong social media small business example is a restaurant in Leith, Scotland called, "The Kitchin." This restaurant, run by Chef Tom Kitchin, is effectively using social media to bring his community of loyal customers together.  (By the way, is there be a better last name for a culinary master than "Kitchin?"  I think not!)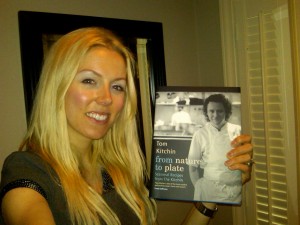 I did my initial research on The Kitchin via their Facebook page.  I even knew what I was going to order ahead of time because I browsed positive recommendations from other enthusiasts right on the restaurant's active Facebook page.  After an amazing meal, I was inspired to buy Chef Tom's cookbook to bring back to the States.  I took this photo of myself with the book and posted it to The Kitchin's Facebook wall with a message of thanks for Chef Tom & the team at The Kitchin.  For virtually no cost, The Kitchin received international exposure of a positive testimonial, promotion of a product and kudos for its commitment to using social media to connect its community…pretty darn powerful!
Consumers are raising their expectations today for businesses to have an effective social media presence and as a small business owner, you don't want to miss the chance to leverage this powerful marketing platform.  I know you are passionate about the specialties of your small business; that's what makes you unique.  Please contact me today to learn how we can get social media results for your unique business.
And now for a few more photos from across the pond…thanks for reading!
~Emily A. Hay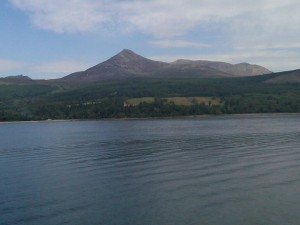 The bonnie views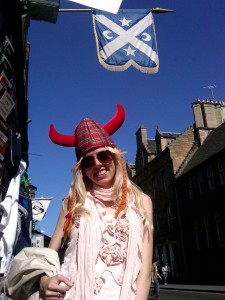 Gotta love tourist novelties 🙂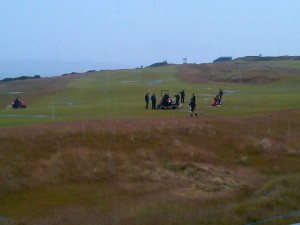 The rain at the Scottish Open in the highlands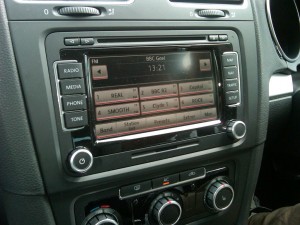 Look closely to see the BBC Gaelic station!
Meat pies make amazing snacks!