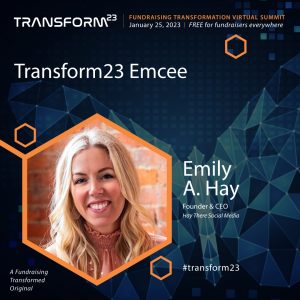 I recently had the privilege to emcee Transform23, the first annual global Fundraising Transformation Virtual Summit, founded by Tammy Zonker, AFP Certified Master Trainer, Fundraising Strategist, Transformational Keynote Speaker, and founder of Fundraising Transformed.  This summit was also made possible through the collaborative efforts of Trent Thompson, CMO of Fundraising Transformed.
The global Summit, although virtual, was streamed live from a studio in TechTown Detroit (on an incredibly snowy day no less!).  There was also live musical entertainment from Detroit-based violinist, Dileonte Jones.
This summit brought together world-renowned speakers who equipped, empowered and inspired fundraisers to transform their fundraising, so they can transform the world.
Sessions topics included:
– Crypto-philanthropy
– Creating Human Connection Across the Digital Divide
– The Unexpected Forces that Influence Your Donors
– Storytelling & so much more
As I reflected on the opportunity to emcee this event, I kept thinking about the word, "transform."  To transform means to "make a thorough or dramatic change in the form, appearance, or character of."  The opposite of transform is "preserve" or keep the same.
Through my work at Hay There Social Media, I witness women take the brave step to transform their professional path everyday.  And through my personal experience in the Fair Play Documentary, produced by Reese Witherspoon's Hello Sunshine, written by Jennifer Siebel Newsom, based off Eve Rodsky's NY Times Bestselling Book,  I am no stranger to the need to transform.
It was a meaningful opportunity to connect with speakers and attendees alike on how transformation is often inconvenient.  Transformation isn't easy.  Transformations can't be scheduled or rushed.  Transforming isn't always visible to the eye. But transformation doesn't begin without deep thinking.
The Transform23 Summit with over 1,000 attendees registered for this powerful, wow-packed day that brought so much inspiration and education to fundraising professionals, was the perfect excuse to hit the ground thinking in 2023, not just running.
As Tammy Zonker said of this tremendously successful event, "I am so grateful to all our attendees for joining us and actively participating in Transform23. Your contagious enthusiasm, incredible engagement with our speakers, and thousands of positive comments made that 12-hour marathon worthwhile many times over!
And a big shout out to our emcee extraordinaire, Emily A. Hay. She was magic!"
Thank you to attendees for positive feedback such as,
"Emily rocked it!!!!!"
"Emily was also very amazing!  A very perfect day!
"Agreed – great MC – Emily!"
– SAVE THE DATE for Transform24 –
At the end of Transform23,  Transform24 was announced and you can save the date: 📆 1.24.24.
You can sign up to be one of the first to know when registration opens 👉 http://bit.ly/3Y48OXe
Speaker List
Dr. Adrian Sargeant, Institute for Sustainable Philanthropy
Dr. Jen Shang, Institute for Sustainable Philanthropy
Una Osili 
IU. Lilly Family School of Philanthropy
Rachel (Bender) Michele, Arjuna Solutions
Doug Hunter, Arjuna Solutions
Alex Wilson, The Giving Block
Ethan Beute, MBA, BombBomb
Caliopy Glaros, Philanthropy without Borders
Cherian Koshy, Nonprofit Operating System
Christal M. Cherry, Cherry
 The Board Pro