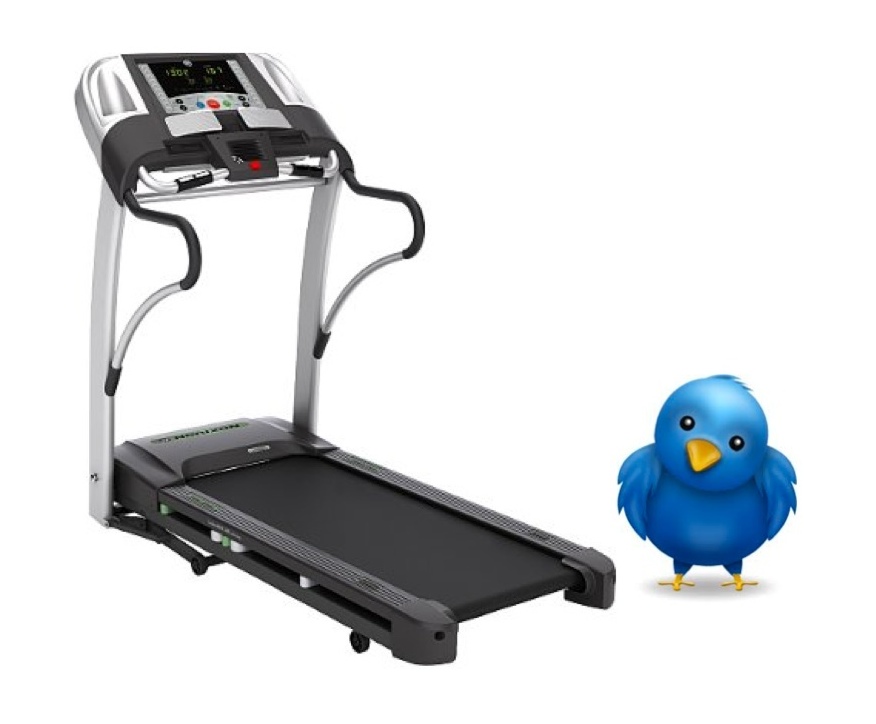 Exercise Regularly & Use Social Media:
3 Fundamental Reasons Why Your Small Business Needs to Use Social Media!
The purpose of this blog post is to make sure you have an understanding Why Social Media is NECESSARY for Your Small Business.
In the world we live in today with marketing trends popping up around us, I have found that the one constant question that small business owners are asking about social media is, "Why is Social Media Necessary for MY Small Business? "
I draw a parallel to exercising trends that also pop up around us today.  Before our society had a strong awareness of the health benefits of exercise, the constant question we as individuals were asking health professionals was, "Why is Regular Exercise Necessary for MY Health?"
The task of exercising might have been on people's "to do" list; however, it wasn't a priority until people understood why it was necessary to their health.  Today, most people could list 3 fundamental reasons why exercise is a necessary part of being healthy such as exercise maintains a healthy weight, it combats chronic diseases or that exercise improves your mood.  It took time and communication for people to understand these benefits…and we still all don't quite "get it"!
In my discussions with small business owners from florists, to retailers to restaurants owners, I see that using social media is something they vaguely have on their "to do" list but it just hasn't become an immediate task.  The main reason for this lack of priority put on social media is simply that some business owners haven't been able to grasp what makes social media so fundamentally critical to their small business marketing efforts.
Social media isn't only for the specialized boutique businesses, it's not for businesses with lavish marketing budgets (we are still in a recession you know!), nor is it only for the "savviest-tech-friendly" type of business owners.
The reasons for using social media are far from "specialized".  Knowing why social media is critical to your small business ' operation is like knowing why a phone line is necessary to your small business.  It is a necessary means of communicating with current and future customers…without it, you could lose the ability to spread the word about your products & services and move business forward.
As a small business owner, you have A LOT on your plate. You are busy running all parts of your operation.  You may not have the luxury of learning about new marketing tools and quite frankly, you might not even be interested.  But by tuning out why social media can be so darn effective for your business, you are doing yourself a disservice.
Consider these 3 fundamental reasons the tools to make informed decisions about your business' social media use.
Fundamental Reason to Use Social Media #1:  TO BE EASILY FOUND.
In the 90s, a phone book listing worked to ensure people found your business, then a hardcopy listing evolved to a digital website when the world went to the internet.  Your website acted as an online brochure so people could find your business when they searched via search engine like Google or Yahoo.  The necessary information about your business such as an overview on products, services & contact information can all be easily viewed via your website.
Just last month, it was announced that Facebook officially has surpassed Google as the world's most visited website.
What does that mean?
It means that Facebook, the world's largest social network, is the primary destination for users internet sessions.  In 2010, Mashable announced that, "The average U.S. Internet user spends more time on Facebook than on Google, Yahoo, YouTube, Microsoft, Wikipedia and Amazon combined."  People are not spending their time on the internet with the search engines anymore, people are moving from a Google-centric web to a people-centric web.  As a further point, can you guess what the most frequently "Googled term" was in 2010?  "Facebook".
What does this mean for your small business?
Clearly, if your small business is not leveraging social media effectively, then you are not making it easy for customers to find you.  If you are not able to tell your customers to "Connect with us on our Facebook business page", then you are missing an enormous opportunity have a presence in your customer's life.
Furthermore, we are rapidly moving into the "mobile revolution." Thanks to smart phones (& make note of "QR codes"), people will no longer wait to get back to their desktop to access the internet and find your business when they are in need of your product or service.  People are browsing on the go and are conditioned to get what the need NOW.
How does social media tie into this mobile movement?
People that access their social profiles from their mobile device are many times more active on social networks.  We are embarking on a generation of customers that won't know life without smart phones.  If your business is not leveraging social media than you are limiting your chance of being easily found & being helpful to customers on the go.
All in all, the marketing rules haven't changed – the tools simply have.
Fundamental Reason to Use Social Media #2: TO BE WHERE YOUR CUSTOMERS ARE.
The data is in, 550million+ people are on Facebook  and American users are spending over an hour per day on social networking sites.  This clearly shows that people are choosing to spend their time hanging out online on social networking sites.
Don't think your customers are hanging out on social networks? The largest growing demographic of users are 50+ years of age and the number of users over the age of 35 continues to double month over month.
This vast use of social media has changed the way people search for products and services. Before social media, people went to Google and simply searched "florist" and entered their zip code for example.  Maybe they came across your location and website and might have seen a few good online reviews.  Today, individuals are skipping the Google search and are turning to their social networks to ask if anyone knows of a good florist in the area.
People look for friends recommendations…this can be based on which business pages their friends "like" and word-of-mouth referrals they've received through direct messages or more public wall discussions where people are actively voicing their opinions.  If your business doesn't have a Facebook page for example, how does that person have a chance to find you? As a further point, unfortunately, just having a Facebook page isn't enough – your business page must have an inviting feel with updated, frequent activity and engaging 2-way conversation.  If you don't, your small business is less likely to attract that person looking to buy flowers from a socially familiar place that a lot of people publicly "like" and are proud to recommend.
Think of social media as an online conversation about your business, you simply don't want to miss the chance to have a voice.
Fundamental Reason to Use Social Media #3:  IT'S EFFECTIVE & AFFORDABLE.
Social media is effective…socially! In my opinion, small businesses are inherently better off at being "personal" because the brand, the owner, and the small business innately identify with people more closely on a human level that feels warmer and more genuine.  In a previous post, I stated that its this personal representation of a small business that can translate perfectly through social media.  Big businesses have to work harder to be good at something that small businesses naturally excel at.
Social media is effective through creativity. There are so many creative ways to leverage your various social profiles.  Take YouTube for example…having a sale at your store?  Take a quick video of customers happily trying on your latest pieces that will be marked down.  Save money on local tv commercials by recording short video testimonials of your customers and post them on your YouTube channel (with customer permission of course!).  You can generate endless new ideas from your social media community to drive more business.
Social media is effective customer service.  Social media enables you to increase customer satisfaction & get helpful feedback immediately. In the case of any negative feedback, by proactively and publicly dealing with it, you may create a long-term ambassador for your brand.  Social media enables you to always gain insight to constantly improve your customers experience over your competitors.
Social media is effective and targeted. Although Mr. Zuckerberg is on the hot seat frequently for privacy concerns, this voluntary collection of information from users has allowed Facebook to bring targeted focus to the type of person your business wants to reach through Facebook advertising.
Social media is affordable. With most social media platforms being free to users, it results in virtually no cost to have various profiles.  However, in order to be effective, you have to be consistent with your activity…remember, its about the quality of activity, not the quantity of profiles.  There is an investment of your time and the return on that investment can vary on your current social media know-how and interest in learning best social media practices.
As you use social media for your small business, it can quickly become more productive and a cost-effective use of your time to outsource the management of your social media presence to the right social media manager…this option can be more affordable than you think.
In summary, social media best leveraged for small business enhances the customer experience with your brand. If your business can establish an online relationship with your customers and you can consistently improve their online interaction with your small business, then you are on the right social media track!
Was this post helpful to you?  If so, please share it via Facebook and tweet it to other small business owners that could use the information.
As always, please feel free to leave any questions in the comment section below – would LOVE to hear from you!
Thanks for visiting!
Emily A. Hay 🙂