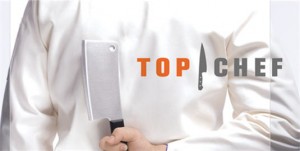 "Hay There" Friends!  Emily A. Hay here and today I am sharing a delicious social media small business success I experienced this past week.  This small business in particular is set-up for social media success and there is a certain "reality show" personality behind the efforts.  I am talking about "The Lark" – a fine dining restaurant in southeast Michigan and the Executive Chef & Bravo's Top Chef Season 7 "Cheftestant" John Somerville, is whipping up social media action.
My friendship with Chef John is a pure, organic result of a social media connection ("organic" –nice food/SEO reference, huh? :)).  Being "Facebook friends" led to numerous discussions where I learned about his culinary work at The Lark and the more social media conversations we had led to more occasions where I patronized the restaurant (aka I spent $ at the restaurant as a direct result of the social media connection).
This past week, John made us aware of a "Facebook Wednesday" being held at The Lark and encouraged us to make our reservations.  "Facebook Wednesday" meant that John simply used his social media community as a source of prospective diners to personally reach out to…EXCELLENT APPROACH!  With his suggestion at the top of my Facebook message inbox, we quickly called to save a spot at the restaurant.
When we arrived on "Facebook Wednesday," I saw something at the restaurant that is another direct result of effective social media marketing.  There was a "new type" of customer in the dining room – a social technology savvy consumer who already knows about Chef John, his culinary creations and the dining experience at The Lark before he/she ever walks into the restaurant.
It is precisely this new type of customer that is primed and ready to spread the word to their social networks with photos and details about their experience (that can be good or bad…but it's a tremendous opportunity…).  What other marketing medium has ever delivered that kind of connection to customers –for small business owners in particular?  It gives me goosebumps!
Chef John Somerville spent time with guests at each of the tables in his usual fashion; however, there was already a strong sense of rapport between John and the "Facebook Wednesday diners" as he moved from table to table.  In other words, brand new patrons can become "virtual regulars" through social media interaction. They get acquainted with the team members and become familiar with the offerings and the experience before ever arriving.  That kind of strong connection directly leads to increased sales (and it certainly did that night).
Chef John reached out to us through our social media connections and brought us into The Lark on a night we never would have been there.  We've all heard that "people like to do business with people they like."  I personally would have a very hard time turning down an offer to dine at a restaurant I have a relationship with and the relationship was formed through social media.
Here is the recipe I see Chef John following that is creating a delicious social media success:
1 part Facebook business page
This platform in particular is being used to bring the business to life.  The personality of The Lark & of Chef John is translating through this powerful word-of-mouth marketing outlet.
2 parts Customer Engagement
Chef John has conversations with his fans/customers regularly…he cultivates relationships by keeping in touch with what he's working on and doing.  Remember customer engagement does not have an age limitation…remember, 57% of users of social networking sites are over age 35. (Pingdom, Feb 2010)
A Dash of Pizzazz
Chef John Somerville is leveraging his accomplishment of being on Bravo's Top Chef – and he should!  I am not suggesting that it takes tv personality "notoriety" in order to share a story about your role and your business.  No –in fact, I am suggesting that you apply this model to your business! Leverage your professional accomplishments as a business owner…I KNOW you have them.  Social media marketing is what enables any Small Business Owner the ability to position him/herself on the same marketing platform as a Bravo TV Top Chef Contestant.
1 part "Call to Action"
Chef John certainly encouraged diners to come back and to report back on his Facebook page about their experience.
Blend, serve, enjoy! 🙂
I am passionate about making social media as effective for small business owners as it can be.   In my opinion, there are certainly additional things that Chef John could be doing to increase the impact of his social media presence.  However, this particular experience is a fantastic example of a small business taking action to leverage social media to form meaningful relationships with current & prospective customers.  For that, Chef John and The Lark Restaurant should be commended.
No "Chef John" in your business?  That's ok.  It's important to remember, your small business doesn't have to have ONE individual as the social media representative…your small business simply needs a consistent PRESENCE in the conversation taking place through social media.
It is simply unrealistic for some small business owners to take the social media marketing initiative upon themselves 110%.  Other small business owners simply cannot dedicate even 50% to the effort.  That doesn't mean you need to miss out on the benefits of effectives social media marketing!   I can help you with setting up a social media strategy and providing dedicated, consistent social media activity…affordably and effectively.  Let's have a discussion 🙂
Thanks for reading!
~Emily A. Hay