How I Have Used Social Media to Work From Home
I have been self-employed since 2010.  Social media marketing was my vehicle to be my own boss and be a work from home mom.  As a champion for work life integration for more than a decade, my life's work at Hay There Social Media is to give women the professional system to do the same.   While systems are something I've enjoyed creating my entire life, I grew up without small business owner mentors and entrepreneur role models, so needless to say, I did not have any exposure to freelance work and earning income as a self-employed professional.  As they say, knowledge is power, and I'm all for anything I can do to help get this information into the hands of more women – especially moms.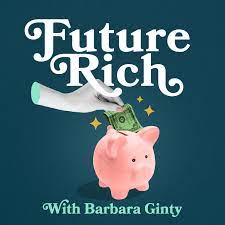 Which is why I was so thrilled to be on the Future Rich Podcast with Barbara Ginty, your CFP Bestie, to talk about becoming your own boss, the earning potential and how women can do this for themselves as a social media manager.   Future Rich, one of the 10 Best Finance podcasts, is for women who are unsure about finance and savings and each episode gives Certified Financial Planner™ and money whisperer, Barbara Ginty, a chance to give women the tools to work towards achieving their financial goals.
Perhaps the Great Resignation (or the Great Reshuffle) has you searching for viable professional options that give you flexibility and allow you to earn on your terms.  We've learned that marketing was one of the hardest hit industries due to the pandemic, with millions of women in marketing roles leaving the workforce.   But when a door closes, a new one opens.  And freelance work can be a very viable way to get yourself back into the workforce on your terms.  Becoming a social media manager is not only a way to build a freelance business for yourself, it provides a transferrable skillset as another advantage.
How Much You Can Earn as a Social Media Manager
As you search to be a work from home mom, you might be asking: How much can I make?  So I spoke to Personal Finance Expert, Barb Ginty, about this very topic.
In this episode of the Future Rich podcast, I talked with Barb talk about:
How motherhood inspired me to find a way to work for herself and to help other moms do the same
Why social media management is a great career for anyone looking for flexible work
How to set your rates as a freelancer, the earning potential for a social media manager and the importance of value-based billing.
How you can become your own boss, too.
What You Can Make as a Freelance Social Media Manager
Barb helped me go deep on the subject of "what can I make as a freelance social media manager?"  From our experience at Hay There Social Media as a community of social media managers, we discussed how to get into the business, how to set your rates and we covered some additional considerations people should make when shifting from a W-2 employee situation into one of self-employment.  It's useful to consider different factors as you evaluate the worthiness of an opportunity; there's a LOT more to consider beyond the salary or an hourly rate.
Furthermore, in this in-depth collaborative post, the Future Rich team outlined factors from tax rates to write-offs to earning potential to how to answer the question: "How much do you make?"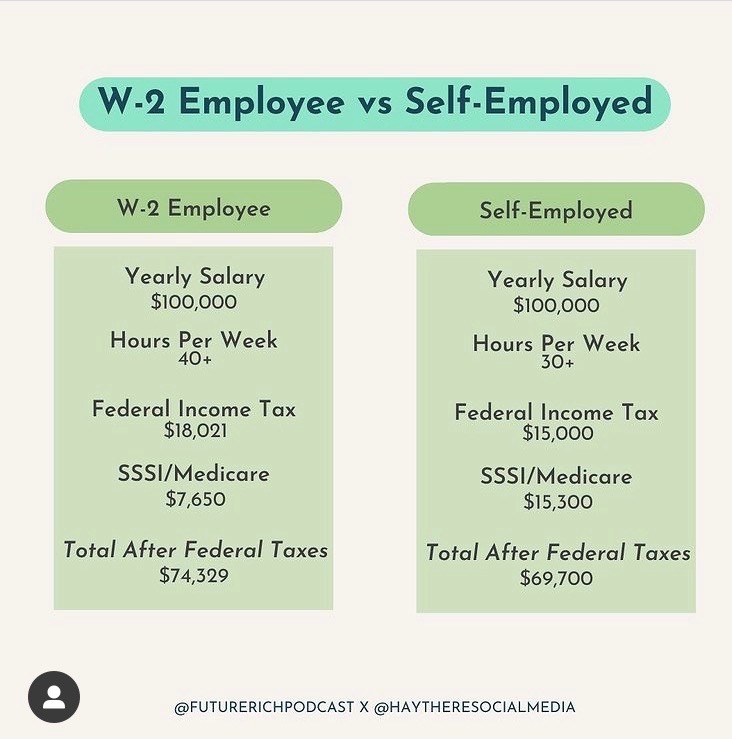 As you can see, from a tax perspective, you might be making less than your salaried peers BUT you have the potential to put more in your pocket because you can expense certain bills.
*This is not personalized advice, this may or may not apply to your circumstances. Please seek a tax professional to discuss the details of your personal situation. 
A Work Life Integration System That Works
If you would like to learn more about learning how to start your own social media freelance business, please check out Episode #160 of the Future Rich Podcast where I talked about becoming your own boss with Barb Ginty.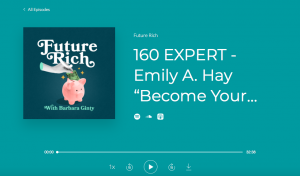 And if this recipe for work+life integration is just what you are looking for, please contact Hay There Social Media today.