They say to entrepreneurs, "if you want to fast, go alone.  If you want to go far, go together." It's true.  From athletes to world leaders to heads of households, you can't be as successful as you were meant to be if you go at it alone without the support of others.
I started Hay There Social Media in 2010 and thankfully built a team of incredibly supportive women that never made me feel like I was operating as a solopreneur.  In addition to my team, I have always been involved with groups of fellow professionals on similar paths to help me go farther.
When Amy Jo Martin, a woman I originally followed since her days as Founder and CEO of Digital Royalty (an agency that helped companies, celebrities, professional sports leagues, teams and athletes build, measure and monetize their digital universe), launched a group program to help women entrepreneurs level up their businesses, I knew it was the right fit for me.
The Renegade Accelerator is an 8-week intensive, real time, training program for women in entrepreneurship and business designed to grow your personal brand, your platform.  Amy Jo often shares that when she interviewed Mark Cuban for her "Why Not Now" podcast and asked him for investment advice, he basically said always invest in yourself; it's always a wise investment.
In 2019, I made the investment and enrolled in the Renegade Accelerator (formerly known as Renegade Brand Bootcamp) and was immediately immersed in enriching curriculum and a supportive group of fellow business owners all looking to help one another.  While a wide range of industries were represented, the women all have a similar growth mindset and a desire to learn from – and to help –one another.
This program was a completely virtual format leveraging Zoom and Slack, even before the pandemic hit.  This virtual format was a tremendous value to me – not only because Hay There Social Media was a work-from-home shop since day 1 – but because the supportive community that expanded time zones and perspectives fit with the work life integration lifestyle I rely on.
Throughout my experience as a Renegade with Amy Jo Martin, I've had 3 major takeaways:
Investing in yourself WORKS.

It can be difficult for women to do this. Period. We constantly think of others and put their needs ahead of ours.  We can talk ourselves out of virtually anything.  We can easily put ourselves off by saying "I'll do it later when I have more time."  But will we ever have enough time?  My friend, Navyn Salem, Founder of Edesia Nutrition, said in a Today Show interview with Cynthia McFadden that as a mom, "you'll NEVER have enough time.  So just do it."  Make the investment.  YOU are worth it.
You get out what you put in.

This may be a cliché or maybe it's merely a predictable takeaway. But "you get out what you put in" is 100% true and I find is actually THE answer to the question, "Will this work for me?"   (Trust me – I'm familiar with this question as I ask myself this and women ask me this at Hay There.)
I have found that if you are evaluating an opportunity and losing sleep over whether or not something will work for you, if you can tell yourself you will put in the work, then your answer is YES, it will work for you.  Because you do get out what you put in.
So, you are often in more control of something working than you think.  I show up to the scheduled Renegade meetings, I participate regularly in the online community and I actively think of ways to help the women since I know they do the same for me.  As they say, "quality over quantity."  I have found putting in the work deeply with this group is more valuable than being a member of countless groups where I would be spread too thin to make meaningful progress.
Do something different.

You have to do things differently to get different results. Amy Jo Martin says "Getting uncomfortable is the gateway to everything we want."  I regularly commend the women who become Hay There Social Media INsiders for saying "yes" before they were ready.  That is a REALLY hard thing to do!  It's completely normal to want to stop feelings of discomfort and to fall victim to imposter syndrome.  You may even think something won't work for you just because it's simply different; however, if you acknowledge this feeling is part of the growth process and that's not a sign of "the wrong" choice, you will be better prepared to manage it.
The Renegade experience by Amy Jo Martin has been a tremendous growth opportunity and the supportive community has made it more valuable than I could imagine.  In September 2021, after multiple pandemic-related delays, the group of us finally gathered in person in Austin for a weekend of discussion, connection and idea generation.  The bonds and friendships formed have helped me grow in everyway so it's impossible to quantify the ROI.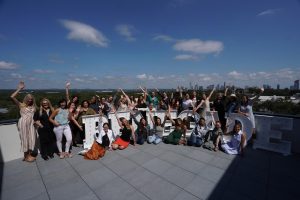 I'm grateful to share that women in the Renegade Collective have hired Hay There Social Media INsiders to be their social media managers and I'm proud that the feedback on their work has been overwhelmingly positive.
In conclusion, growth takes work; but you don't have to go at it alone; in fact, you shouldn't.  Reaching your potential is a lifelong journey of ongoing discovery and making incremental progress.  But would you rather go fast?  Or farther?  I know what I choose.