Hay There! Are you blogging for your small business? Perhaps you're on Facebook and Twitter but you don't know how a blog fits in to your social media strategy?   If you want to have an effective online presence, today's post will give YOU an action plan to put a WordPress blog to work for your business.
Hay There Social Media Team Members and I joined WordPress WordCamp Detroit this weekend.  There were many talented developers, tech savvy folks and WordPress enthusiasts on-site for this 2-day event.  WordPress is a platform I've supported since the beginning of my own blogging journey and I'm always amazed to learn about more dimensions and solutions this incredible platform delivers.
So the 1st question is, "Why should you blog for your small business?"
First of all, it's important to note that a blog is part of social media…a big part!  If you have read my blog posts before, then you will see that I often compare an effective online presence to a perfect martini.  A martini is made up from a few quality ingredients, mixed in the right quantity.  A WordPress blog is the vodka in your  social media martini…the main ingredient and hub of your online presence!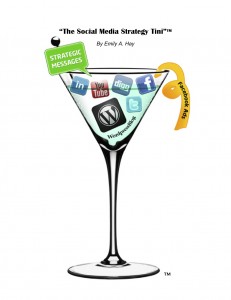 Think of your blog as an online conversation about your business. Each day, you interact with current and prospective customers, sometimes in-person, on the phone or via email.  Your blog enables you to continue that dialogue online on an ongoing basis and reach an exponential amount of people.  Through a small business blog, you are able to interact and engage with your audience online through written or even video posts.
When you create trust with your prospective customers, it can be a natural step for them to want to do business with you.  Apply your knowledge to write valuable blog posts about your industry and showcase your expertise. Businesses have customers and customers are readers; your blog can help readers get to know more about your specialty and how you can help them.
The 2nd question is, "Why should I use WordPress?"
It's important to think of WordPress as much more than a "blog." Entire websites can be built on a WordPress.org platform, which allows for greater control of the look, feel, functionality of your site as well (as and budget) as your business evolves and needs change.
Some bloggers start on a WordPress.com platform but WordPress.org is self-hosted, which means you control all the elements – visual and mechanical.  Even if you are a WordPress novice, the basic steps include getting a domain (from GoDaddy), website hosting (I like HostGator) and then downloading WordPress.org.  (Additional details on these steps to get WordPress going in my eBook, "The Social Media Tutorial for Small Business Owners," so feel free to opt-in to my blog to receive a copy!).
Just like we use "apps" to enhance our mobile devices, WordPress "plug-ins" can be added to your site enabling everything from ecommerce capabilities (shopping carts) to helping block spam comments.  Since the focus of Hay There Social Media is on helping small business owners effectively leverage social media, plug-ins that allow people to share your content via social media very easily are "a must."
I personally love that WordPress is a "walk before you run" environment. The themes and ease of use give you a professional look to start with and you can add features as your needs change – and as your budget allows for that change!  Already have an expensive website and can't begin to think of "switching" to WordPress?  Have a portion of your site that is a pain to deal with?  I would love to put you in touch with any of the talented developers from WordCamp to see how WordPress functionality can make any aspect of your current online presence better.
The most important step is to take action! Decide to do a blog for your small business today.  The next time you have a conversation with a prospective customer, take a few minutes to type out a few paragraph in a Word document and save that as your first blog post.
If you are leveraging other social media platforms like Facebook, Twitter, LinkedIn and YouTube and want to effectively put a WordPress blog to work, contact us today so we can help get results for YOUR small business.  We'd love to hear from you.
Thanks for reading!