Are you a small business owner that is currently using social media to connect with your target audience?  Are you trying to grow a following on twitter for your small business?  At Hay There Social Media, we help small business owners implement effective social media strategies everyday that help grow their businesses.  With Twitter being one of the major, omnipresent social networks, we receive a great deal of questions about how to use it to get results.
On Twitter in particular, it is easy to get overwhelmed by the sheer volume of users and messages.  A recent example of how were able to help a successful business sort through Twitter is MD Moms, makers of Baby Silk Skin Care Products.
A Hay There Social Media Team Member, @sheriwatkins, was tweeting with @MDMoms about their large follower base.  With over 63,000 followers, they inquired about editing their follower list to make sure it's comprised of legit, quality target audience members.  (A very important consideration for a company that makes such quality products.)  Sheri was able to provide them some specific insight and action items and they were more than appreciative!   See the screenshot below: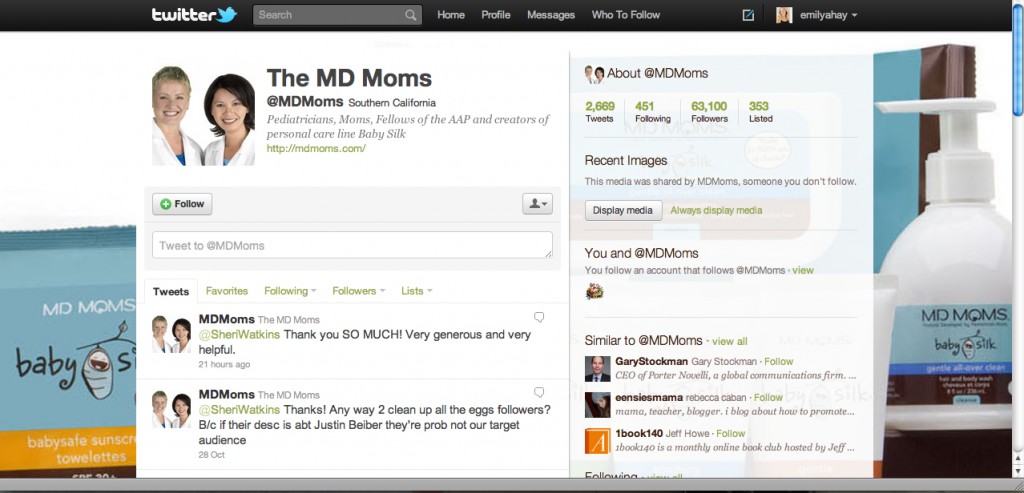 Whether you've been using Twitter for your business for a while or if you're just getting started, in today's blog post, we are outlining a few action items to set yourself up for success so YOUR business can get results through Twitter.
1) Follow people organically.
It is important to note that the plan to "grow a following" must include ensuring your following consists of the right quality of users vs. quantity.   (After all, what is the point of marketing your business to thousands of unqualified individuals that don't result in more business for you, right?)  There are a number of programs that enable you to "auto-followback" any twitter user that follows you, but that requires you to surrender some proactive quality control.
We recommend that you listen before you follow; pick a few twitter users from your target audience, see who they interact with and listen to what they talk about.   You want to leverage the expertise and personality of your business through social networking platforms and that includes "introducing" yourself to the right mix of people.  Since you are dedicating your time to this, be choosy about who you follow.  Stay away from the default "egg" avatars or profiles with no description or something random.
2) Lock down your tweets.
Protecting your tweets is a strategy we rarely implement as it does limit one's audience when trying to promote a product/service (which can be counterproductive!). It can dilute the activity of "social networking."  One quick example, if one of your followers' re-tweets one of your posts only the followers you both share will see them.  Depending on the nature of your small business, this strategy might be well suited for the messages you choose to tweet out, but again, a practice for careful consideration.
3) Commit to ongoing monitoring.
There is no way to cut corners on this part.  On Twitter, it is important to get rid of the "spammy" followers and you can do so by clicking on your followers list. It will take a little work, but you can block individual followers. Next to the "Follow" button is a down arrow. Click on that and one of the options is to block a follower. You can also use this tool to report spammers.
Feeling like you just don't have the time for this activity? We can appreciate that! Using social media is a time commitment, but it's not insurmountable; it takes time and effort to implement any effective marketing campaign and social media is no exception.  The quality of the work you put in will pay you back ten-fold.
If you are overwhelmed on figuring out how to establish an effective social media strategy and manage your presence on networks like Twitter, Facebook and your company blog for example, please contact Hay There Social Media.  Check out our list of services so we can get social media results for you today!   Thanks for reading and we look forward to tweeting with you soon 🙂