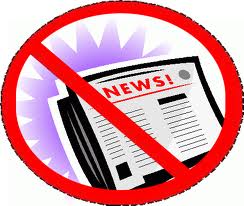 Do you want to start an eNewsletter for your small business?  Perhaps you already have a database of emails from customers that you'd like to begin communicating regularly with (which is a great plan!).  Maybe you want to build a database of emails and are thinking an eNewsletter is the best platform to communicate with them.
Either way, you want to jump on board with social media as a powerful method to communicate with your target audience and are planning your first step….great work!
BUT— before you dedicate precious time and resources to the initiative of a designing, building & writing a traditional monthly "eNewsletter," I've outlined a few considerations to take into account to make sure you aren't missing an even better *SOCIAL MEDIA* focused option to communicate with that same database of contacts.
In a recent meeting with a small business, we discussed the importance of blogging.   Remember, blogging can be easily thought of as the practice of sharing valuable content about one's business to educate and inform current and prospective customers about your products and services.  The business said, "we don't need to blog, we would just like to send out a monthly eNewsletter."
I could completely appreciate how writing "blogs" and writing an "eNewsletter" could be viewed as the same practice.  An eNewsletter distributes valuable content about one's business like a blog does too, right?  Of course!
However, I want you to think of something… why do you upgrade your cell phone every 2 years or less?  Because there is new technology, new functions, features, benefits and opportunity to leverage from a new device, correct?
Sure your original phone/device still works.  It can still make calls, take photos and send messages.  But—you decide to upgrade your original device because you say to yourself "this old device its outdated technology.  I can get a whole lot more features out of a new device while saving time and money!"
While it may be too strong of a statement to say a monthly eNewsletter is "outdated technology", blogging for your business is the same principle as upgrading to a great new device.  Upgrade your monthly eNewsletter plan to a blogging plan! You will have the opportunity to leverage new functions, features & gain more overall benefits from it.
Don't get me wrong, eNewsletters are great communication tools.  There are some beautifully laid out eNewsletters I subscribe to that are chock full o' content and I look forward to reading them.  However, I am speaking in terms of the small business owner that wants to start leveraging social media to grow their business. I know this small business owner already has a lot on their plate.  This time-crunched business owner may already feel overwhelmed with setting aside some time each day to update a Facebook page.
How many of you feel the burden of formatting?  Are you already cringing at the thought of saying to yourself, "Oh man, its almost the 20th of the month…better start working on next months newsletter…." *groan*  That can be a huge burden and create tremendous pressure!
I strive to suggest social media tactics that can be implemented instantly, therefore, when starting to leverage social media for your small business, my suggestion is skip the traditional eNewsletter emailed out once a month and go with blogging.
Put your efforts where they yield results and your effort is best spent on generating content about your business on an ongoing basis!  THAT is the value that people get out of your business, not simply a beautiful once-a-month eNewsletter.
"But Emily, a newsletter is pretty!"  Friends, I don't know about you but half the time when I get a newsletter, I can't even see the pretty icons/photos because I have to first hit "load remote content" button, which in this fast-paced world can seem like too much work to click that button alone…how sad is that?
Remember, blog content comes in various formats – written, video, audio, visual while an eNewsletter may only include photos and written copy.  A blog is an exciting 3-dimensional experience while a traditional eNewsletter may not be so robust.
Next time you have an event coming up for your business, write a quick blog post about what attendees can expect from it.  Are you excited about a new product that just came in?  Turn on the Flip Cam and record a short video of yourself talking about the product as if a customer were standing right there with you.  See how this blog content can replace a monthly eNewsletter?
REMEMBER THIS:
Part of the beauty of blogging is that it ARCHIVES your content…it lives on!  You can refer to a blog post from a previous occasion as new conversations come up…. leverage what you've already done…now THAT's a powerful time saver!  The content in an eNewsletter can be deleted from an inbox in a split second never to be referred to again.
HERE'S AN ADDITIONAL CONSIDERATION:
Remember, newsletters usually go out monthly…but special offers, new products and up-to-the-minute events happen in the business that social media can best be utilized to get the word out IMMEDIATELY.  Social media is NOW – it doesn't wait for a monthly release – it lives and breathes, its flexible and I love it.  🙂
HERE'S WHAT I SUGGEST YOU DO:
Write a blog post for your small business…insert some photos or a short video message.  Draft a "no muss no fuss" short and sweet cover email without elaborate photos or images.  Provide a quick overview on recent happenings at your business and explain in a few sentences the benefit of your blog post you are sharing with the reader today.  Simply include a link to your new blog post for folks to click on.  (Additional benefit – this format can be read easily and cleanly from a mobile device!)
Upgrade the actual language you use in your office.  Start saying, "We blog for our business" instead of, "We send out a monthly eNewsletter". This small shift alone shows a forward-thinking step!
Do you see how this post I am doing right now could EASILY be sent out to my email subscribers as an eNewsletter?  However, I choose to type up this information as a blog post and distribute it as such. It better utilizes social media for my business than an eNewsletter would.  An eNewsletter can be thought of as finite; while a blog post is infinite…it can live for a very long time, be referred to over time and used to spark discussion with a community.
A blog post, like social media, is alive and your content lives on!   An eNewsletter that winds up in your inbox once deleted is dead.
Ready to upgrade?  🙂
If you are feeling overwhelmed by the task at hand, don't worry!  That's what I am here for.  I'd love for you to leave a question or comment below.  Please let me know how I can help your small business get a social media strategy in place that can include the implementation of blogging.
Thanks for visiting!
~Emily A. Hay