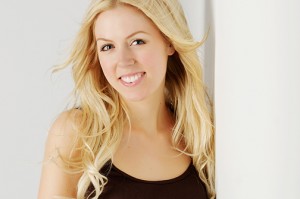 By Emily A. Hay
Accelerators seem like they are "all the rage" these days in the tech-scene. They are what they sound like: an entrepreneurial program offering an intense mentoring period to accelerate the growth of one's startup business.  While the concept seems trendy, it is a proven business model that has played a role in the launch of many successful tech companies around the world.  Other accelerators include 500 Startups and Y Combinator in Silicon Valley, Bizdom in Detroit and Cleveland and Entrepreneurial Spark in Scotland to name a few.
It was the Silicon Valley-based NewME Accelerator that recently caught my attention.  NewME (short for "new media") serves women and minority tech founders and it recently launched a "popup" accelerator in cities across the U.S., including Detroit.  (The 3-day popup experience is designed to be a taste of their full 12-week accelerator; a program with alumni like Detroit's own Hajj Flemings as he worked on the startup, GoKit.)

 Sponsored by Google for Entrepreneurs, the NewME Accelerator popup was hosted at TechTown and was open to a limited number of registrants.  We attendees received a 1-hour 1-on-1 coaching session and 2 evening group sessions where we learned about a pitch deck and received pointers from a presentation skills coach.  The popup experience ended with Demo Days at Wayne State University, giving us the chance to pitch our startup to an audience of accredited investor firms and industry leaders in the Detroit startup community, including Detroit Venture Partners and Chris Genteel, Head of Diversity Markets at Google.  Queue the sweaty palms.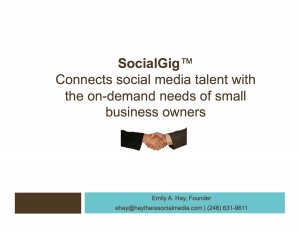 Armed with a lot of prep and my passion, it was time to pitch my startup, "SocialGig™."  The concept came from first-hand experiences at Hay There Social Media and TweetTeam™ where we help small business owners and work with empowered social media users (bloggers, people who tweet, etc).
Proudly, we took second place during Demo Days!  Congrats to all NewME attendees who pitched and a special congrats to Brian Clark, who took 1st, and to Brandon Clarke, who took 3rd.  There is endless work ahead but we are currently building partnerships and seeking strategic advisors to move the startup forward…quickly.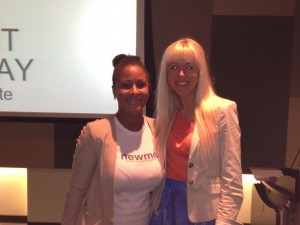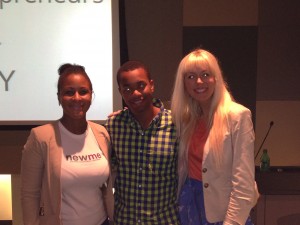 Here are 5 lessons I learned from the experience:
1)    Just like your startup, your pitch deck might not be perfect before you "get it out there."  It should, however, be well thought-out, tell a story and include critical details about your progress and unique advantages.
2)    Less is more.  The 2-minute time limit for your pitch was daunting at first, but in a way, the strict framework relieved pressure as it forced you to get to the point and omit unnecessary details.  I am trying to apply this lesson to everything I do from business development phone conversations to proposals for new business.
3)    There's no one right way to get your startup moving.  Perhaps by bootstrapping a current business, you uncover a better way to do things, or maybe you gain acceptance into a formal accelerator.  Whichever route you go, there are endless approaches to get moving.  It's up to the entrepreneur to drive the progress from there.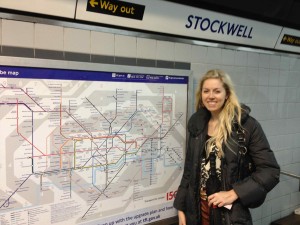 4)    Startups are like taking the subway, not an airplane.  You are not taking a straight path from one destination to the next as you do when flying.  A subway ride is a powerful analogy for launching a startup: sometimes you go the wrong way, sometimes you have to switch lines, sometimes you get off too soon, or too late but you just stay underground and keep working.  I originally learned this lesson from my friend and VC veteran and improv guru, Mary Lemmer, but it applied so perfectly to what I went through during the NewME popup experience.
5)    Partnerships are everything.  From growing a customer base to getting strategic direction from people who have been where you want to go, entrepreneurs achieve scalable success through partnerships.
Are you the founder of a startup or work for a startup?  Do you have lessons you've learned?  Please share with us!
A huge thanks to the NewME team, Google and all who continue to shape the tech-startup scene in Detroit!