By Emily A. Hay
Females. Tech. Startup. Detroit. The girls are ready for the Silicon Mitten Movement!
WHO: Women 2.0 is a group with a mission to increase the number of female founders of technology startups with inspiration, information and education through their platform.
WHAT: Founder Friday is a Women 2.0 networking event to promote the creation of new networks among aspiring entrepreneurs, current entrepreneurs and investors in innovative cities around the world.
Founder Friday is currently hosted globally in Palo Alto, Madrid (Spain), Barcelona (Spain), Buenos Aires (Argentina), Santiago (Chile), Bogota (Colombia), Mexico City (Mexico) and Vancouver (Canada), with more cities coming online.
U.S. Founder Friday host cities include San Francisco, Palo Alto, Los Angeles, Orange County, San Diego, Austin, New York, Boston and…
WHERE: Ready for this? Women 2.0 with their partnership with Google for Entrepreneurs has launched in Detroit as well! Get the scoop from the initial #FFDet launch held at the Masonic Temple in Detroit on November 16th: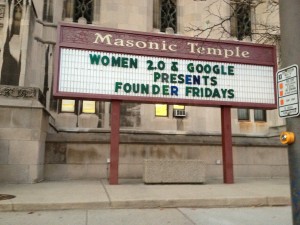 HOW: Founder Friday Detroit (#FFDet) kicked off with an inspirational introduction by Sepi Nasiri, VP of all things offline at Women 2.0 (by the way, Sepi arrived in Detroit just after the Women 2.0 #PitchNYC Conference and Competition, where ten women-led tech companies pitched business ideas to a team of panelists for prizes).
Google team members made introductions and the first Founder Friday speaker was Detroit investor, serial entrepreneur, and Co-Founder of Nonopoly, Angel Gambino.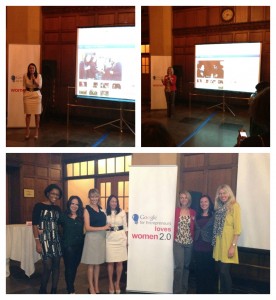 WHY: I am thrilled to be helping Women 2.0 as part of the core team for Founder Friday Detroit and look forward to having you attend our monthly events in 2013.
You should attend if you are in or are looking to learn about the tech space, if you want to get inspired, network and uncover opportunity. Remember, Founder Friday brings entrepreneurs – aspiring and current – and investors together.
WHEN: Friday, January 11, 2013 from 6-9pm at Centaur Bar (3rd floor) in downtown Detroit (2233 Park Ave, Detroit, MI 48201)
You can REGISTER HERE.
Come be a part of the action in Detroit taking place around the female tech scene!
Remember, Founder Friday is FREE to attend; it's open to men and women, so feel free to bring a friend and get ready to be part of the movement!
PS As a "Welcome to Detroit" present, I gave Sepi a copy of my favorite leadership book by Detroit's own Anne Doyle – I recommend you check it out!