I think everyone has heard of FOMO (Fear of Missing Out), which is brought on by seeing everyone live their best curated lives on social media, right?
But COVID-19 has brought on a new social media-related affliction, especially for me, a self-professed Type A mom: SOMO, or Sadness of Missing Out.
A few weeks ago, we were all thrust into a new world that begins and ends at our front door. COVID-19 and the resulting stay-at-home orders have changed pretty much every aspect of our lives – and it's been especially challenging for us parents, who are not only working from home but helping our children navigate this change and do home-based learning.
So, what does FOMO, or SOMO, have to do with this?  As a social media professional, I wondered if FOMO would be diluted during COVID.  I mean, the playing fields are leveled.  There isn't anything happening out there to miss out on, right?
I will admit, I was wrong.
We are all traditionally sad about missing holidays and birthdays, or having to celebrate them on the end of a web cam. We are sad to see our children missing friends. We are sad to miss spring sports, graduation parties, baby showers and weddings. That is all normal and a collective grief. That grief, I definitely understand! You probably do, too.
But it's this other kind of sadness, or grief, that has me puzzled. Instead of missing out on what I see others doing, I am sad about missing out on the things I WANT to do, personally and professionally.
And it has been challenging to watch others seemingly excel or thrive during this time, even if I know they have different circumstances. I have said to myself a few times, why can't I find purpose in this season?  There must be SOME action I can take to feel like I'm being productive and living intentionally.
I think it's because for me, SOMO is something different. As a business owner, I love using my time wisely – and on my terms. This looks like attending conferences, scheduling meetings, serving clients, pushing my mind to bigger and better places. I love ticking things off a to-do list that is under my control. I want to jump when opportunity knocks.
And as a self-proclaimed Type A mom, I thrive on routine and schedule with my children. I love knowing that they are happy, engaged and in a predictable world where they are learning, having social experiences and enriching activities. Yes, I know there is unpredictability like a snow day or sick day, but as parents, we can handle those curveballs because we know they are short-lived.
But SOMO doesn't care about that. It sneaks in when I am having a challenging day and can lead to sadness, frustration or confusion.
Maybe you've felt it too. My team at Hay There Social Media has. We have had several conversations about why we, as work at home moms with plans and safety nets in place, are STILL struggling with the new normal.
It's quite the rollercoaster ride!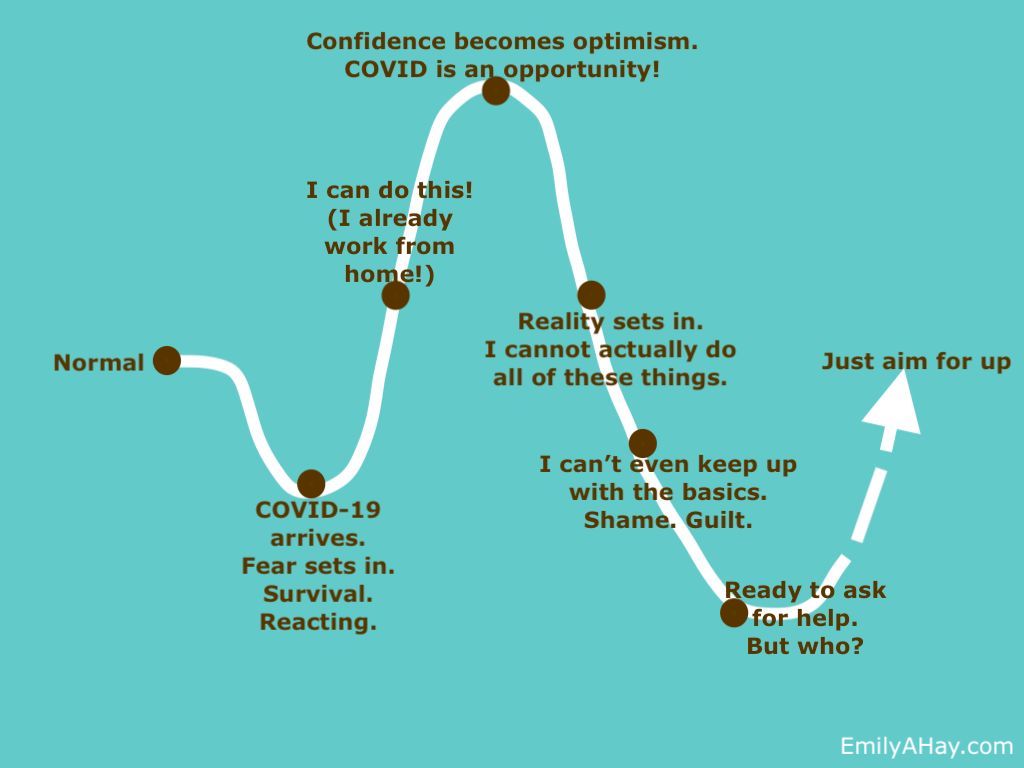 Life is normal
COVID-19 has arrived. Initial shock.  Reacting.  Survival mode.
There is a feeling of "I can do this." I already work from home.

I have been doing this for 9 years.
I have a team around me who is already doing this.
We can handle curveballs! We do this already with snow and sick days!
Confidence blossomed into optimism. COVID-19 is an opportunity!

I can be a Pinterest mom. Crafts are my middle name!
I can get the barre body from home. I now have THE TIME.
I can cook my children balanced and adventurous meals. It will be a LEARNING OPPORTUNITY.
Now is the time for a hobby! I can read. Journal.  Organize my basement. The world is my oyster!
I can also spend more time with my family!
This is also a great time to hunker down and spend time on my business!
Reality is beginning to set in. I cannot actually do all of these things. This is hard. It is much more difficult than summer, or a snow or sick day. (Thank you, Mother Honestly & The Mom Project, for all of your supportive content around this.)
I can't even keep up with the basics. I am failing. Why am I failing?
I am ready to ask for help. But who do I ask? Everyone I know in my network is in the same sinking ship.  (The Riveter & Together in Digital communities have been so supportive assembling resources for women.)
I am aiming for up. I am not a victim. This is just that hard. I can do hard things. I can choose not to be sad while validating the source of the sadness. I can choose reasonable expectations and remember how fortunate I am. I can choose to be kind to myself. There are still ups and downs (it's a rollercoaster analogy, after all) but nothing dramatic. I can ride this ride without puking.
At the root of my feelings, I have discovered, is my desire to accept and find personal validation of my circumstances – my new normal. I want to feel like I am doing enough; being enough. Meeting not only the needs of my family but my own needs.
Otherwise, I will continue to feel things like SOMO when I am really just leaning into another aspect of my life. For me, it's wearing the full-time mama hat – not switching my mama hat with my personal-development loving professional/entrepreneur hat.
While I am still longing to make this a productive time and am looking to take advantage of the new opportunities that life in quarantine has given me (think virtual conferences to zoom happy hours), I can recognize the SOMO and sit with it, while not letting it overwhelm my emotions.
I can be realistic with myself and gentle with my limits. I can wear my mama hat and hold that gift closely because let's be honest, it's one I love the most.