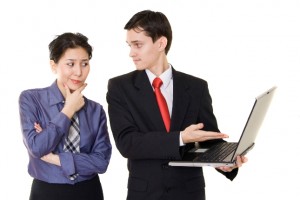 Hay There!  As a small business social media manager and strategist, one of the critical social media activities I am accountable for on behalf of clients is "online reputation management".  This work includes scouring the internet for a small business name, product reviews, public feedback, and monitoring for any commentary that involves their business.  It is my job to first listen; then address the conversation taking place via social media to ensure a positive feedback loop is maintained.
Virtually all small business owners prides themselves on the good reputation they work very hard to establish OFFLINE.  Since social media is essentially word-of-mouth marketing, it is critical that the same positive sentiment and accurate information is spread and maintained ONLINE through social media.
The first step to ensuring that your business has a positive online reputation is listening to what is being said…who is accountable for that in your small business?
Today I am sharing a direct example of "online reputation management" in practice so you can take action to monitor the online reputation of your small business through social media.
By monitoring online content for a particular small business client, we came across an article posted on a food blog from Crain's Detroit Business, a leading news source.  This article was from February 2010 and it stated that the business, Great Harvest Bread Company in Birmingham, MI, had been shut down…closed without any further notice.  The information in the article was accurate upon the time of release; however, there was no obvious way of knowing whether or not it was still current.  Can you imagine the sickening feeling a small business owner would feel when they saw an article stating their store was CLOSED? This is right up in the category of "small business nightmare"; clearly red flags were flying for both my client & myself!  The current owners of the business took over from the previous owners shortly after this article was posted in 2010.  Since the online article inaccurately reflected the current reputation of the business, it needed addressed.
After contacting the journalist, he conducted an interview with the owners of Great Harvest Bread Company in Birmingham, and we were able to get a new online article written and released with updated information.
It can be unsettling to think that inaccurate information could be floating around on the internet about your small business, impacting your online reputation.  This risk can be reduced by having someone accountable for listening to such "online mentions" that can spread quickly via social media.
Moral of the story, dedicated small business social media management delivered a critical result. An outdated piece of information about the business was circulating around the internet that could have potentially been very damaging to the business' reputation.  However, this was turned into an opportunity for new, positive content to be distributed and shared via social media.
Now THAT is a social media SUCCESS!
Who is managing the online reputation for your small business through social media?
Do you want to be sure your small business' reputation is managed through social media like Great Harvest's is?  Leave a comment below or email me to inquire how I can help you with that function today.
Click HERE to read the updated article about Great Harvest in Birmingham, titled, "Great Harvest Bread Co. gets a facelift," from Nathan Skid's Table Talk Blog at Crain's Detroit Business.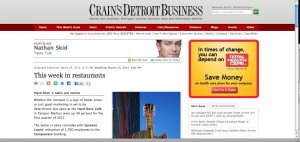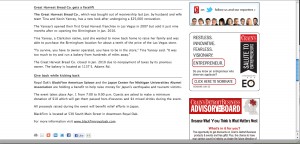 Thanks!
~Emily A. Hay