Hay There Friends!  It's 6:00am…Saturday morning…alarm goes off…I jump out of bed…yes its Saturday… excited to get to the bakery…even without coffee…all to deliver SOCIAL MEDIA RESULTS!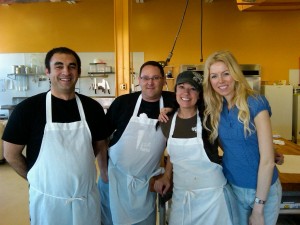 (From L to R):  Joe Hakim & David Benjamin, Hungry Dudes; Tina Yancey, Great Harvest Bread Birmingham Owner, Emily A. Hay
In today's post, I am sharing with you a specific example of a small business social media success featuring renowned Detroit foodie group, "The Hungry Dudes!"
Does your social media marketing strategy include defined goals such as "build new customer relationships" and "spread brand awareness"? An important way to obtain such goals is to be accountable for connecting with effective online influencers.
Connecting your business to the right audience members through social media can happen by making introductions and having conversations directly for example, or indirectly through word-of-mouth referrals.  A powerful way to spread awareness about your small business is to leverage social media to connect to the strong voices in your particular industry.
I often come across the topic of "online influencers" in terms of BIG businesses.  For example, Mashable author, Macala Wright Lee, wrote about an instance where in order to drive awareness about "Wizarding World of Harry Potter," a new Harry Potter theme park, Universal Studios skipped the expensive marketing budget and engaged strategic social influencers to spread the word.  Instead of a traditional promotional campaign, they connected with the seven most influential bloggers in the Harry Potter community resulting in over 350 million Potter enthusiasts learning about this park through online social conversation.
Connecting with online influencers is not something RESERVED for large corporations as clearly illustrated by Great Harvest Bread in Birmingham and "The Hungry Dudes!"
The Hungry Dudes is a noteworthy local foodie group made up of Joe Hakim, Henry Balanon, Dave Benjamin, David Murray &  Angela Watts, that has a strong online presence through blogging and social media.   I met The Hungry Dudes purely through social media conversation as part of my social media small business focus.   Their hard work and credibility has launched them into "online influencer" status in our local food community and they share the opinions and passion of their palette through their blog.  After reaching out to the Dudes, and engaging the owners of Great Harvest Bread in Birmingham, we all collectively agreed that a "meet and bake" at the bakery was a great opportunity for a unique foodie experience.
On Saturday morning, the owners of Great Harvest in Birmingham welcomed everyone to their bakery bright and early.  The dudes suited up in aprons themselves and headed for the kneading table.  A bakery tour was conducted, interesting whole grain discussion took place and fresh, hot, specialty breads were savored by all.
In a recent article posted on Mashable, it stated that in order to engage relevant influencers successfully, one of the things a business must do includes:
"Give up control of the message and trust your influencers to tell the brand story through their words."
CLICK HERE TO READ about the Hungry Dudes experience at Great Harvest Birmingham
You be the judge but I think Dave nailed his personal depiction of the whole grain experience 🙂
Your small business' authentic relationship with the right online influencers can provide you a wonderful opportunity for quality word-of-mouth referrals.  The ability for an influencer to have an effect on others comes from a track record and credibility in the community.  It is important to note that these connections for your business must be genuine, beneficial for all parties involved, and develop over time.  These experiences should not be viewed as "one-time-promotional measures" for your business, but as an opportunity to add value to the greater audience (such as Great Harvest in Birmingham regularly offering these free tours).

We are grateful for the Hungry Dudes interest and support and look forward to a great relationship with them as "bread ambassadors".  Leveraging social media to connect with like-minded people delivered an effective result.
Great Harvest in Birmingham's engagement in the food and local business community is very important.  They will continue to put as much time and attention into continuing dialogues through social media as they do to making delicious whole grain products!
You can view the entire Mashable article referenced, "How to Connect Your Brand to the Right Online Influencers," by clicking here:
A social media success for all involved…thanks for reading!
~Emily A. Hay, Hay There Social Media