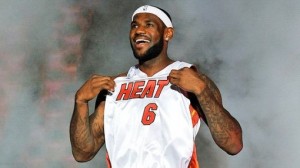 Being a Cleveland native, the whole LeBron James move to Miami has really stuck with me over these past few weeks.  I know his move to the Heat may be "old news" to most people at this point but the whole situation has fueled a lot of personal thought.  Thursday night was LeBron's first appearance in Cleveland playing for the Miami Heat vs. the Cavs.  I was so disappointed with the hassle that the people from Cleveland gave him because the more I thought the path LeBron has taken, the more I agreed with his decision and was inspired by his determination.  I've drawn a number of parallels between the path LeBron James has taken and the path that a small business owner takes.
First of all, just like a professional athlete, being an entrepreneur takes practice. It isn't just a "free spirit, think-outside-the-box"mindset.  It is a discipline that takes commitment to shape, manage and develop in order to achieve long-term success.  LeBron James is without a doubt, one of the most talented basketball players to ever play the sport; but people seem to forget that LeBron didn't walk out onto a basketball court one day and become who is TODAY.
In order for an entrepreneur to build their own business, they must focus on many aspects from their own personal development to the marketing and sales practices of the actual business.  LeBron also has many areas to focus on – being in top physical shape, all defense & offense aspects of the game, team leadership as well as the business areas outside of basketball such as his commercial endorsements, his products and his long-term brand development.
LeBron has devoted his life to the practice of his sport—to his business—and it wasn't focused on basketball out of the gate…growing up he did play other sports and questioned which niche was his for the taking.  It was with time and development that basketball proved to be the sport he was committed to mastering.  As an entrepreneur starting your own small business, you will most likely NOT KNOW what your niche is right out of the gate. You may start down one path and the further you go, your focus may shift or evolve into a completely different area.  This does not mean you are doing something wrong, it actually proves you are making progress!
Being an entrepreneur also requires the ability to make tough decisions.  When starting a small business, you are GOING to hear from people that it's a bad idea, that its too difficult, that you are making the WRONG choice just like the people of Cleveland told LeBron.  But like LeBron, you have to know that this decision is in front of you for a reason.  If you have to make a decision to change, just because it may stir up some controversy, it doesn't make it the WRONG decision for you.
Since LeBron has gotten such a hassle for the decision, does that mean he should never have done it (even if you don't agree with the way he did it)?  His new Nike commercial addresses just this point exactly.  In the commercial he asks, "What should I do?" challenging nay-sayers to take an objective look at the scenario and possibly rethink their evaluation of him.  It really encourages people to put themselves in his shoes and realize that there was time, consideration and business strategy behind his decision—it wasn't a personal attack on his hometown team (LeBron stresses he is from Akron, OH –not Cleveland).  We small business owners should realize that no entrepreneur is immune to criticism when tough decisions are to be made.
If you look at your life today and keep doing things the same as you do now, you can probably visualize with 98% accuracy that your life will look the same in 5 years.   I hear people who want to start their business make excuses of why they can't before they even take the first step, "I have a great idea but no capital/resources to start it"…"I work a day job fulltime, I don't have the time to dedicate to starting my business," or "I don't have the experience."  LeBron could have made equivalent excuses to stay in Cleveland such as, "but my family is from the area," "I already make enough money," or "I don't want my home team to call me a traitor."  He knew he wanted to win championships and in order to achieve this goal, he had to work with a team that he felt is capable of making this a reality.  I am sure he looked at his life with the Cavs, and realized without a change, in 5 years his development would not be where he wants it to be.  So he made a decision that made him unpopular in Cleveland and with sports fans elsewhere.
This decision to move to the Miami was right for him, regardless of the Heat's current record, just like an entrepreneur feels their small business plan is right for them.  Once you have your idea and plans for your business, take the first step and charge forward like LeBron did; you see the opportunity, you know you are prepared for and you must tune people out that fault you for it.
As I work to develop my small business, I am motivated by LeBron – not only by his amazing abilities as a professional athlete but the exceptional ambition he has as a 26 year old.  LeBron James is 100% committed to his personal development to make sure he is the best he can be in his business.  It bothers me that people of Cleveland can't see how amazing it is that LeBron James' legacy has the Cavs at its foundation.  He wasn't disloyal; he simply saw an opportunity to propel his personal development forward and to get the results he wants in the next chapter of his career.
As an entrepreneur, you are going to face challenges without a doubt and you may disappoint some people by charging forward with your small business.  But remember, you have the fire inside you for a reason and every entrepreneur, like LeBron James, has the freedom and right to grow their business and do what drives them to be successful. That is the beauty of the sport of entrepreneurialism.
If this post helped you see that all entrepreneurs face challenges and need to stay motivated to push through, please share it via Facebook or tweet it with the buttons above.
Feel free to share with anyone that disagrees with LeBron's decision, too 😉
Talk to you soon!
~Emily A. Hay